I came downstairs Sunday afternoon and saw my husband sitting in the living room, and Amanda draped on the loveseat -- both reading. I quickly grabbed a book as I asked, "Oh, are we all reading together?" That's a family activity I can get behind.
Amanda said, "We aren't
all
reading. Kyle's playing computer."
I told Kyle to look through the bin and find a book, and he came and snuggled up with me in the other chair and we all read.
In spite of a busy back-to-school schedule, we are still managing to read around here.
One of the things Kyle had to bring for his first week of first grade was "his favorite book." They used it throughout the week to do different activities. The book Kyle chose was
Chester's Masterpiece
(linked to my original review). He did indeed read it a lot this summer, and it grew on me as well. I love the idea of Chester, but I don't find him as funny as my children do. However, this story is very clever, and I love how Melanie Watt includes the elements of writing a story in it.
Two weeks into school, I asked him if they were finished with the book, and could he bring it home. They were finished, he said, but he still wanted to read it. He uses it in his free time.
I went to his Open house in week 3, and asked, "Do you want me to bring Chester home, and maybe you could take another book? Nope.
Ally Condie's
Matched
was one of the hyped releases at BEA. I was able to hear her
speak on the YA panel
, and was so impressed by her. She's the kind of person I think I could be friends with, but more importantly to this work, she gets teens, in spite of the fact that she knows she's not one of them -- a hopelessly uncool adult -- because she's a high school teacher, and she remembers what it's like to be a teenager herself.
I haven't gotten to
Matched
yet, because it doesn't release until late November, but after reading a few advance reviews, I confidently passed it on to Amanda, 12, to read. She loved it. It was one of her last summer reads. A book she could spend hours reading during the day and stay in bed an extra hour with the book under the covers, and she did just that.
It's a futuristic dystopian tale -- you know, "If you like
the Hunger Games
, try this. . . . ", which I know we'll see a lot more of. But it's not just a copycat book. It's original, and realistic, with that futuristic edge.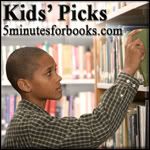 Amanda loved it, and I look forward to reading it myself.
This is linked up to 5 Minutes for Books
Kids' Picks
. Link up your own post the 3rd Tuesday of the month, or browse around to see what other children are recommending.