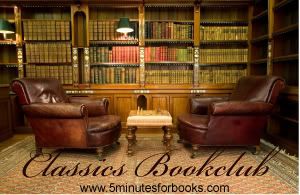 Just last week
, I admitted that I had not yet started to read
Pride and Prejudice
for the 5 Minutes for Books Classics Bookclub. I
may
have read it in high school, but since I didn't remember the outcome at all, I'm treating this as my first read.
Lisa gave some questions
as guidelines, and I've sort of incorporated them into this review.
Going into the book, I was of course familiar with the now archetypical characters of the aloof and reserved Mr. Darcy and the quick and spirited Elizabeth Bennet. In fact, although I haven't seen a movie adaptation either, I have seen
the movie
and read
the book
of
Bridget Jones's Diary
in which Colin Firth plays Mark Darcy, just as he plays Mr. Darcy in
the A&E miniseries
. I
have
to watch this now. Colin Firth IS Mr. Darcy.
Bridget Jones's Diary
is a sort of modern retelling of the story (FYI--both the book and the movie have strong language and are not at all in the same style of a properly reserved British classic).
It took me a while to get used to the "
free indirect speech
" that Austen employs (which was named in the
Wikipedia entry
which also told me that a Broadway musical version is set to debut in November 2009), so the first third was a little slow-going. However, I read the last half in the same way I read a page-turning thriller. I had to know what would happen.
What surprised me was falling in love and loving to hate the characters who were unfamiliar to me as well: Jane and Mr. Bingley, Mr. Collins, Lady Catherine, and my favorite Mr. and Mrs. Bennet. An exchange between from Mr. and Mrs. Bennet which summed up my delight in their characters was this:

"Your mother insists upon your accepting it. Is is not so, Mrs. Bennet?"

"Yes, or I will never see her again."

"An unhappy alternative is before you, Elizabeth. From this day you must be a stranger to one of your parents. Your mother will never see you again if you do

not

marry Mr. Collins, and I will never see you again if you

do

."
I love that the last chapter serves as an epilogue to allow the reader a peek into the futures of the characters involved.
Another overall impression is that I want to live in this world that values the development of friendships through frequent letters and visits, where sitting and reading all evening is considered an acceptable use of your time (well, especially if you're a man), where long walks are taken, and no work is ever done. Sign me up!
Whether you participated in this month's Classic Bookclub or not, you can find links to others' thoughts on Pride and Prejudice over at
5 Minutes for Books
.