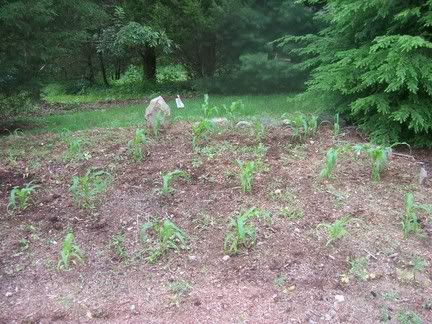 We are trying to grow some corn, tomatoes, and green beans. The tomatoes aren't looking so great, but everything else looks quite promising. I noticed a couple of days ago that there were quite a few weeds in the corn. There must have been grass mixed in with the peat that my husband enriched the soil with. At any rate, after having warm, but not too hot, weather and lots of rain these last few days, the weeds are now taking over. I decided to tackle them.
I do not like weeding. Remember, I am
not Amish
, nor do I possess their enviable work ethic.
The weeds were coming out easily, but I was quickly overwhelmed. I wanted to quit, but I guess the idea behind weeding is that I have to get rid of the weeds so that they don't steal the water and sun that the plants need to produce good fruit.
While I was working, I was thinking about how I let little weeds come into my life. I don't get rid of them right away, so they crowd in, leeching from the fruit producing that God is trying to work within me. Too much time on the phone or watching TV, at the expense of my kids and my housework. Too much time on the computer (well, I don't want to step on any toes here, so I'll move on). Entertainment choices that aren't
that
bad (but are they any good?). Unkind thoughts and words.
There were a lot of weeds. Seriously, I just couldn't do it. So, I decided to just get the hoe and uproot all of them together. Yes, I did damage one corn plant and one tomato plant, but the weeds had done so much damage that I had to completely overturn the earth to get them all out effectively.
I've honestly found that is the best way for me to deal with the weeds in my life as well. I don't do well with moderation (lack of self-control, I guess). I do much better with complete elimination. If I just don't turn the TV on at all during the day, I use my time more effectively. But if I happen to flip it on "just to catch. . . " then it stays on and many hours are wasted.
I need to listen to God's voice when I hear Him telling me what weeds need to be overturned so that the fruit He's working in me will be that much sweeter. Is there anything that needs to go in your life?