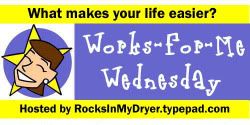 I'm once again joining in
Works for Me Wednesday
hosted by Shannon at
Rocks in My Dryer
, and I have uploaded her cool graphic banner this week as well. You can go over there each week and see links to many posts with great tips.
For so many reasons, I looooove
amazon.com
. Two things that really
work for me
are the
comments
by other users and the
wishlist
feature.
I am a listmaker, and the
wishlist
really helps me to keep up with books I hear about and am interested in reading (and DVDs and CDs as well). When I hear a book mentioned, I go over to
amazon.com
, look at the comments of other readers, and either add it to my wishlist, or my thinking about it list, or directly to my shopping cart (which also features a handy "save for later" button if I know I want to buy it, but not on that particular purchase day). A fairly new feature is the ability to create more than one wishlist. There is the main list that will come up with my sil or bil search for a gift to buy me, but I now can keep a private list with books I'm thinking about getting, or might just want to check out at the library. That way, when I'm making a trip to the library, and want to pick up a book, instead of wandering through the fiction aisles aimlesses and unguided, I can check out a book that has been personally recommended to me, or matched up to my interests by the almost-too-smart amazon search engine.
Those
comments
on the amazon items are priceless to me. I trust other booklovers, and especially on a non-fiction book or cookbook, what someone has to say about it will convince me that it's worth my time, or not. In fact, I consult
amazon.com
for purchases of most items, including a power screwdriver which we bought my father in law. I know nothing about power tools, but by reading the reviews, I was able to ascertain what features were crucial and which ones were superfluous.
I know that all of these things were meant to drive their business, and I'm sure that it has (speaking personally), but the user-friendly helps are something that really make that site work for me.
Are there any wonderful ways that you use that site that you'd like to share with me?